Posts for tag: mouthguards
By Fennell Baron & Associates
January 07, 2019
What's your favorite winter sport? For some, it's all about swooshing down a snowy trail on skis, a board, or a sled. For others, the main attraction is skating at an ice rink or a frozen pond. If you're more of an indoors athlete, you may enjoy a fast-moving game of basketball or a round of squash. Or, you might take a turn on a climbing wall or a trampoline.
What do all these activities have in common? They're fun, they're great exercise…and they all come with a risk of injury to your teeth.
It's easy to see how a collision on snow or ice could result in a blow to the mouth. But did you know that basketball (along with hockey) is among the sports with the highest risk of facial injury? What's more, many "non-contact" sports actually have a similar risk.
Located front and center in the face, the incisors (front teeth) are the ones most likely to sustain injury. Unfortunately, they are also the most visible teeth in your smile. With all of the advances in modern dentistry, it's possible to restore or replace damaged teeth in almost any situation—but the cost can be high, both for present restoration and future preservation. Is there a better alternative?
Yes! It isn't sitting at home—it's wearing a custom-made mouthguard when there's a risk of facial injury.
Most people don't ski or play hockey without protective gear like a helmet. A mouthguard can effectively protect against dental injury that might otherwise be serious. Available here at the dental office, a custom mouthguard is made from an exact model of your own teeth, so it's comfortable to wear and fits perfectly—but no safety equipment can work if you don't use it!
So whether you like to hit the trails or the gym this winter, don't forget to bring a custom-made mouthguard. It's a small piece of gear that can save you from a big headache!
If you would like more information on mouthguards, please contact us or schedule a consultation. You can learn more by reading the Dear Doctor magazine articles "Athletic Mouthguards" and "An Introduction to Sports Injuries & Dentistry."
By Fennell Baron & Associates
December 25, 2011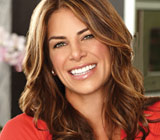 Protecting one's smile is important at any age. This is especially true for people who participate in contact sports or other activities where a trauma to the mouth can occur. While we all tend to believe that we are safe and that injuries "only happen to other people," we could not be further from the truth. Take, for example, Jillian Michaels, an accomplished author, business mogul, wellness expert, trainer and star of The Biggest Loser. She learned this invaluable lesson after breaking her two front teeth as a child and having them repaired with crowns. As Jillian stated in her interview with Dear Doctor magazine, "Now, I generally wear a mouthguard if I am doing anything where my teeth have any chance of being knocked out."
We feel obligated to educate our patients so that you can make informed decisions about your oral health. This is why we put together the following brief list of research findings.
Did you know?
According to the American Dental Association, an athlete is 60 times more likely to suffer harm to the teeth when not wearing a mouthguard.
The US Centers for Disease Control reports that sports-related dental injuries account for more than 600,000 visits to the emergency room each year.
People who do not have a knocked-out tooth properly reserved or replanted may face a lifetime cost of $10,000 to $20,000 per tooth, according to the National Youth Sports Foundation for Safety.
The Academy of General Dentistry estimates that mouthguards prevent more than 200,000 injuries each year.
If feel you and/or your children need a custom-fitted, professionally made mouthguard, contact us today to schedule an appointment. During your private consultation, we will conduct a thorough examination, listen to your concerns, and answer all of your questions as we discuss the best methods for protecting your investment — your own, or your children's, teeth.
To learn more about mouthguards, continue reading the Dear Doctor magazine article "Athletic Mouthguards, One of the most important parts of any uniform!" And to read the entire interview with Jillian Michaels, please see the article "Jillian Michaels — The Biggest Loser's health and wellness expert talks about her oral health, keeping fit and plans for the future."
By Fennell Baron & Associates
November 06, 2011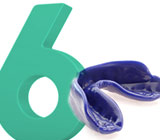 When involved in high impact sports or vigorous activities, it is important to protect your mouth and teeth. This statement is backed by the fact that there are over 600,000 sports-related dental injuries treated in emergency rooms across the US each year according to the US Centers for Disease Control (CDC).
In addition to absorbing and distributing the forces that impact the mouth, teeth, face and jaws an athlete receives while participating in sports such as baseball, football, basketball, hockey (ice and field), skateboarding and wrestling, the American Dental Association (ADA), also recommends the use of custom mouthguards for other activities such as acrobatics, bicycling, handball, racquetball, skiing, and even weightlifting.
These facts make two things clear: (1) it is vital that you obtain a professionally made mouthguard that you wear during these types of activities and (2) that you also understand how this mouthguard protects you. Below are just a few ways.
Lacerations. A custom-fit, professionally made mouthguard covers the sharp surfaces of the teeth to protect the soft tissues of the cheeks, lips, gums and tongue from lacerations that can occur from a blow or sudden jolt.
Mouth Impact. Just as a mouthguard protects against soft tissue lacerations, it can also help prevent injuries to the jaws and teeth. This includes but is not limited to chipped teeth, fractured teeth, broken teeth and teeth that are partially or fully knocked out of their natural position.
TMJ (jaw joint) Trauma. Wearing a properly fitted mouthguard can reduce the potential for jaw displacement and joint fractures by cushioning the jaws against damage from an impact.
Direct Jaw Impact. Anytime a person receives a direct impact to his/her jaw, having a mouthguard in place may help prevent more serious injuries to teeth and jaws. This is especially important for anyone diagnosed with TMJ.
Jaw Fracture. A custom-fit, professionally made mouthguard both absorbs and distributes impact forces so that jaws are protected. And it is this reduction in force that can help prevent the jaws from fractures.
Under Chin Impact. Receiving a blow under the chin can obviously damage teeth; however, it can also cause damage to the jaws as well as inflame or cause TMJ issues.
You can learn more about mouthguards by continuing to read the Dear Doctor magazine article "Athletic Mouthguards." Or you can contact us today to schedule an appointment.