Posts for tag: braces
By Fennell Baron & Associates
June 01, 2018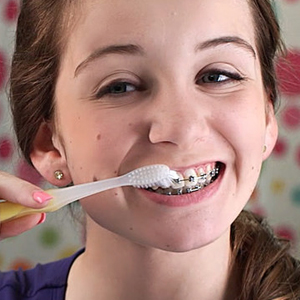 While braces are a tried and true method for achieving a more attractive smile, they may also give rise to problems with dental disease. This is because their hardware — the brackets and bands that serve as tracks for the tensioning wires — make it more difficult to access the tooth and gum surfaces to clean away plaque. This thin film of food remnant may then become a haven for bacteria that cause gum disease or tooth decay.
One of the more common conditions to occur while wearing braces is gingivitis. This is an initial inflammation of the gum tissues caused by bacterial plaque that hasn't been removed by brushing or flossing. As the inflammation grows unchecked, the infection could advance deeper into the tissues to become a more serious form of gum disease that threatens the survival of affected teeth.
Difficult as it may be for those wearing braces, the best way to avoid gingivitis is through more thorough oral hygiene practices. Fortunately, there are many hygiene products that can help you get around many of the access difficulties posed by braces. Smaller toothbrushes known as interproximal brushes and floss threaders, small aids that thread dental floss under braces wires, can access the spaces between teeth more readily than conventional brushes or floss. Water flossers (which use water under pressure to remove plaque between teeth) and motorized toothbrushes can further increase efficiency. We can also reduce bacterial growth in the mouth if need be with prescription-strength antibacterial mouthrinses.
If, however, gingivitis or gum overgrowth (another common occurrence during orthodontic treatment) continues to be a problem, we may need to take other actions including surgery. In extreme cases, the braces may need to be removed to adequately treat the gums and allow them time to heal before proceeding with orthodontics.
Extra care with daily hygiene and regular dental checkups and cleanings in addition to your orthodontic visits will help keep gum problems at bay while you're wearing braces. Taking this extra care will stop or minimize the effect of disease as you continue on to the ultimate goal of your orthodontic treatment — a more beautiful smile.
If you would like more information on dental care during orthodontic treatment, please contact us or schedule an appointment for a consultation.
By Fennell Baron & Associates
September 24, 2015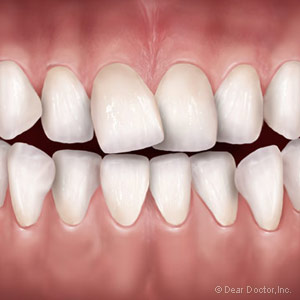 Malocclusions (bad bites) may cause more than an appearance problem — with teeth and jaws not working together properly, you're at higher risk for dental disease or accelerated tooth wear. Fortunately, most malocclusions can be corrected through orthodontics, a specialty for moving teeth to better functioning and more attractive positions.
If you're considering orthodontic treatment for a malocclusion, here are the basics on 3 of the most common orthodontic appliances used for straightening misaligned teeth.
Metal Braces. These appliances have a proven track record for correcting most forms of malocclusion. Braces consist of metal brackets bonded to the front teeth and an anchor band to the back teeth. A thin metal wire passes through the brackets to attach to the bands in the back. Gradually increased tension in the wire incrementally moves the teeth to the desired position.
Clear Bracket Braces. While metal braces do an effective job of tooth movement, they leave less to be desired in appearance. Made of polymer material rather than metal, clear bracket braces offer a more appealing look. But while they're similar in construction to the metal version, they're more susceptible to breakage. Wearers must be extra cautious and avoid hard foods or extreme physical sports contact.
Clear Aligners. The previous appliances are fixed and can't be removed by the wearer. Clear aligners take a different approach with removable plastic trays that fit snugly over the dental arch. A series of trays are computer generated to carefully match the patient's mouth structure, each incrementally smaller than the previous one in the series. After wearing the first tray for two or three weeks, the wearer changes to the next (and slightly smaller) tray in the series, repeating the process until all the trays have been worn. Of the three options, the clear aligners offer the best appearance; however, they're best suited for cases that don't require complex movements.
We can advise you which option is best for you after a complete evaluation, factoring in age, lifestyle and the complexity of your malocclusion. Regardless of the choice, the aim is the same — achieving a healthier mouth, better function and a more attractive smile.
If you would like more information on orthodontic treatment, please contact us or schedule an appointment for a consultation. You can also learn more about this topic by reading the Dear Doctor magazine article "The Magic of Orthodontics."
By Fennell Baron & Associates
December 22, 2014
Now in your adult years, you feel you've functioned pretty well even with a few misaligned teeth. You may also think having them straightened at this point may not be worth the effort and expense.
But there are solid reasons — beyond, of course, the psychological and social benefits gained from a new smile — why straightening teeth even as an adult can be a wise investment. Orthodontics not only enhances your appearance but may also improve your long-term oral health.
Restores proper oral function. Teeth that are aligned properly will tend to function properly. Although you can still chew, speak and smile with teeth that aren't quite aligned properly, over time you'll put more stress on both the teeth and the jaws, which could lead to more wear than what normally occurs with aging. By re-aligning teeth to a more normal position you could be extending the life of your teeth and reducing your risk of other functional problems.
Reduces the risk of periodontal (gum) disease. Some people with misaligned teeth are more susceptible to periodontal disease. Besides difficulties with bacterial plaque removal (a must to avoid gum disease), a person with misaligned teeth can also encounter more defects involving bone and gum tissues like gum recession that can contribute to the progression of gum disease. By straightening teeth (and performing plastic periodontal surgery if needed), we can reduce this risk dramatically — as long as we're performing periodontal treatment for existing gum disease before and during orthodontics.
Facilitates tooth replacement. When we lose a tooth, the mouth's natural mechanism is to move remaining teeth to fill the void left by the lost tooth. This can make it difficult to position a dental implant or similar tooth replacement in a functional and aesthetically appealing way. By applying orthodontics to move drifting teeth back into their proper place, we restore the best condition for achieving success with a tooth replacement.
The best way to know how much you could benefit from orthodontic treatment is to visit us for a full dental evaluation. From there, we can help you decide if treatment for straightening misaligned teeth is right for you.
If you would like more information on orthodontic treatment, please contact us or schedule an appointment for a consultation. You can also learn more about this topic by reading the Dear Doctor magazine article "Why Straighten Teeth."