Posts for tag: bleeding gums
By Fennell Baron & Associates
April 25, 2014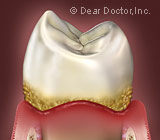 Ninety percent of people have noticed bleeding from their gums when they brush or floss their teeth at some time or other. You may wonder if this is a result of brushing too hard — but that's not usually the case.
If your gums don't hurt — even if they bleed easily — you may think the bleeding is normal, nothing to worry about, or you're brushing too hard.
Bleeding from your gums is not normal!
It is an early warning sign of gum disease. In fact ten percent of those who start with bleeding gums go on to develop serious periodontal disease affecting the support for the teeth leading to tooth loss.
Then why do my gums bleed?
The way you brush your teeth is indeed a factor! Bacteria that normally reside in the mouth (in fact you need them to stay healthy) collect along the gum line in a biofilm. When the biofilm is not removed effectively on a daily basis, over time the gums become inflamed and bleed when touched. Other signs of inflamed gums — gingivitis — are redness and swelling, and even recession.
SO — the problem is not that you are brushing too hard, but that you are not brushing and/or flossing effectively. Both are important.
Three ways to stop bleeding gums before they lead to serious problems
It all starts with brushing your teeth correctly at the gum line. Use a soft multi-tufted toothbrush. Hold it in the gum line and wiggle it gently until the tooth surfaces feel clean to your tongue — just like when you've had a professional cleaning. It doesn't take force, be gentle.
It's just as important to remove biofilm from between the teeth where the toothbrush won't reach. If you are having difficulty flossing, we've got some easy demonstrations and instructional tips.
Remember, as we say, "It's not the brush, it's the hand that holds it."
Contact us today to schedule an appointment or to discuss your questions about bleeding gums. Bring your toothbrush and floss with you to our office and ask us to demonstrate proper oral hygiene techniques. You can also learn more by reading the Dear Doctor magazine article "Bleeding Gums: A very important warning sign of gum disease."
By Fennell Baron & Associates
October 03, 2013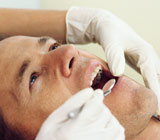 Research has shown that periodontal (gum) disease can affect the health of your whole body. Evidence suggests a relationship between severe gum disease and cardiovascular disease ("cardio" – heart; "vascular" – blood vessel), conditions that lead to heart attacks and strokes. There is also a relationship between gum disease and pregnancy; mothers with severe gum disease have a higher incidence of pre-term delivery and low birth-weight babies. To understand gum disease, you may find the following facts helpful. How many are you aware of?
Periodontal disease — Any disease that affects the areas around the teeth. The word comes from the Latin "peri" meaning around and Greek "odont" meaning tooth. Periodontal disease, or gum disease as it is commonly called, is really a group of diseases with the same outcome: destruction of the periodontal tissues, loss of supporting bone and ultimately the loss of your teeth.
Dental plaque (Biofilms) — A bacterial film that forms on teeth at the gum line, and the reason we brush and floss. Its daily removal is necessary to keep your teeth and gums healthy. A biofilm is a biological film comprised of colonies of living organisms that are generally specific to a particular eco-system. Plaque is one type of biofilm.
Gingivitis ("gingiva" – gum; "itis" – inflammation) — A response of the gum tissues to plaque biofilm that is left undisturbed (due to ineffective, or inadequate oral hygiene). It is the first stage of periodontal disease.
Pocket formation — Just like a pocket on your clothing, pocket formation is the result of separation of the gum tissues from their normally healthy tight attachment to a tooth. Pocketing allows the introduction of bacteria, which perpetuate gum disease.
Abscess — A collection of pus that forms within diseased periodontal tissues. It is experienced as pain, swelling, and discharge of pus from the gum tissues and is an advanced sign of periodontal disease.
Important Tip — Bleeding Gums when brushing teeth or flossing is not normal. It is a warning sign of early gum disease that you should bring to the attention of our office.
Contact us today to schedule an appointment to discuss your questions about periodontal disease. You can also learn more by reading the Dear Doctor magazine article "Understanding Gum (Periodontal) Disease."
By Fennell Baron & Associates
August 21, 2011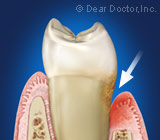 Gum disease, also called periodontal disease (from the roots for "around" and "tooth") starts with redness and inflammation, progresses to infection, and can lead to progressive loss of attachment between the fibers that connect the bone and gum tissues to your teeth, ultimately causing loss of teeth. Here are some ways to assess your risk for gum disease.
Your risk for developing periodontal disease is higher if:
You are over 40.
Studies have shown that periodontal disease and tooth loss correlate with aging. The longer plaque (a film of bacteria that collects on your teeth and gums) is allowed to stay in contact with your gums, the more you are at risk for periodontal disease. This means that brushing and flossing to remove plaque is important throughout your lifetime. To make sure you are removing plaque effectively, come into our office for an evaluation of your brushing and flossing techniques.
You have a family history of gum disease.
If gum disease seems to "run in your family," you may be genetically predisposed to having this disease. Your vulnerability or resistance to gum disease is influenced by genetics. The problem with this assessment is that if your parents were never treated for gum disease or lacked proper instruction in preventative strategies and care, their susceptibility to the disease is difficult to accurately quantify.
You smoke or chew tobacco.
Here's more bad news for smokers. If you smoke or chew tobacco you are at much greater risk for the development and progression of periodontal disease. Smokers' teeth tend to have more plaque and tartar while also having them form more quickly.
You are a woman.
Hormonal fluctuations during a woman's lifetime tend to make her more susceptible to gum disease than men, even if she takes good care of her teeth.
You have ongoing health conditions such as heart disease, respiratory disease, rheumatoid arthritis, osteoporosis, high stress, or diabetes.
Research has shown a connection between these conditions and periodontal disease. The bacteria can pass into the blood stream and move to other parts of the body. Gum disease has also been connected with premature birth and low birth weight in babies.
Your gums bleed when you brush or floss.
Healthy gums do not bleed. If yours do, you may already have the beginnings of gum disease.
You are getting "long in the tooth."
If your teeth appear longer, you may have advancing gum disease. This means that infection has caused your gum tissue to recede away from your teeth.
Your teeth have been getting loose.
Advancing gum disease results in greater bone loss that is needed to support and hold your teeth in place. Loose teeth are a sign that you have a serious problem with periodontal disease.
Even with indications of serious periodontal disease, it can still be stopped. Make an appointment with us today to assess your risks. You can also learn more by reading the Dear Doctor magazine article "Assessing Risk for Gum Disease."