Posts for tag: baby teeth
By Fennell Baron & Associates
May 27, 2018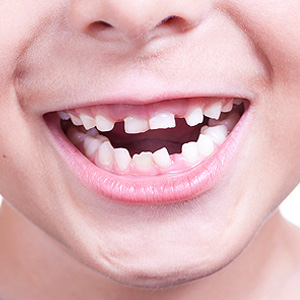 There are usually two moments when primary ("baby") teeth generate excitement in your family: when you first notice them in your child's mouth, and when they come out (and are headed for a rendezvous with the "tooth fairy"!).
Between these two moments, you might not give them much thought. But you should—although primary teeth don't last long, they play a pivotal role in the replacing permanent teeth's long-term health.
This is because a primary tooth is a kind of guide for the permanent one under development in the gums. It serves first as a "space saver," preventing nearby teeth from drifting into where the permanent tooth would properly erupt; and, it provides a pathway for the permanent tooth to travel during eruption. If it's lost prematurely (from injury or, more likely, disease) the permanent tooth may erupt out of position because the other teeth have crowded the space.
That's why we try to make every reasonable effort to save a problem primary tooth. If decay, for example, has advanced deep within the tooth pulp, we may perform a modified root canal treatment to remove the diseased tissue and seal the remaining pulp from further infection. In some circumstances we may cap the tooth with a stainless steel crown (or possibly a white crown alternative) to protect the remaining structure of the tooth.
Of course, even the best efforts can fall short. If the tooth must be removed, we would then consider preserving the empty space with a space maintainer. This orthodontic device usually takes the form of a metal band that's cemented to a tooth on one side of the empty space with a stiff wire loop soldered to it that crosses the space to rest against the tooth on the other side. The wire loop prevents other teeth from crowding in, effectively "maintaining" the space for the permanent tooth.
Regular dental visits, plus your child's daily brushing and flossing, are also crucial in preventing primary teeth from an "early departure." Keeping them for their full lifespan will help prevent problems that could impact your child's dental health future.
If you would like more information on the right care approach for primary teeth, please contact us or schedule an appointment for a consultation. You can also learn more about this topic by reading the Dear Doctor magazine article "Importance of Baby Teeth."
By Fennell Baron & Associates
September 08, 2015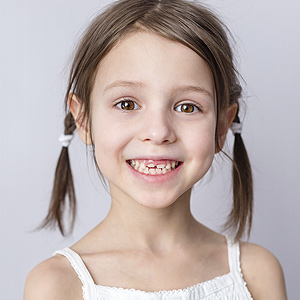 At no other time in a person's life will their teeth and mouth change as rapidly as it will between infancy and adolescence. In this short span an entire set of teeth will emerge and then gradually disappear as a second permanent set takes its place.
While the process may seem chaotic, there is a natural order to it. Knowing what to expect will help ease any undue concerns you may have about your child's experience.
The first primary teeth begin to appear (erupt) in sequence depending on their type. The first are usually the lower central incisors in the very front that erupt around 6-10 months, followed then by the rest of the incisors, first molars and canines (the "eye" teeth). The last to erupt are the primary second molars in the very back of the mouth just before age 3. A similar sequence occurs when they're lost — the central incisors loosen and fall out around 6-7 years; the second molars are the last to go at 10-12 years.
A little "chaos" is normal — but only a little. Because of the tremendous changes in the mouth, primary teeth may appear to be going in every direction with noticeable spaces between front teeth. While this is usually not a great concern, it's still possible future malocclusions (bad bites) may be developing. To monitor this effectively you should begin regular checkups around the child's first birthday — our trained professional eye can determine if an issue has arisen that should be treated.
Protecting primary teeth from tooth decay is another high priority. There's a temptation to discount the damage decay may do to these teeth because "they're going to be lost anyway." But besides their functional role, primary teeth also help guide the developing permanent teeth to erupt in the right position. Losing a primary tooth prematurely might then cause the permanent one to come in misaligned. Preventing tooth decay with daily oral hygiene and regular office visits and cleanings (with possible sealant protection) is a priority. And should decay occur, it's equally important to preserve the tooth for as long as possible for the sake of the succeeding tooth.
Your child's rapid dental development is part of their journey into adulthood. Keeping a watchful eye on the process and practicing good dental care will ensure this part of the journey is uneventful.
If you would like more information on the process of dental development in children, please contact us or schedule an appointment for a consultation. You can also learn more about this topic by reading the Dear Doctor magazine article "Dentistry & Oral Health for Children."
By Fennell Baron & Associates
November 13, 2011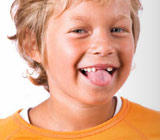 Many youngsters look forward to finding a surprise under their pillow after a visit from the "tooth fairy." This fable may comfort children who wonder why their first teeth come out. Parents need to know that losing baby teeth, also called primary or deciduous teeth, is completely normal, but at the right time and the right "space."
A child's first set of teeth must be lost to create room for the adult or permanent teeth that have been forming beneath them. The buds of the permanent teeth grow within a child's jawbone just under the baby teeth. The tops, or crowns, grow first, followed by the roots. Then as the roots develop, the permanent teeth push the baby teeth above them up through the gum tissues. As this happens, the roots of the baby teeth are resorbed, or melted away.
With their roots gone, eventually the baby teeth become so loose that they can be easily removed or fall out on their own, making room for the adult teeth to appear. Sometimes, when a baby tooth is so loose, it can be wiggled out. It leaves a little bleeding gum tissue that heals easily. This is also normal.
Besides making sure the tooth fairy comes, parents need to be sure that their children are evaluated to determine whether baby teeth are being lost in the right sequence so they will act as guides for the adult teeth. If teeth are lost prematurely because of decay or trauma, it is important that space is maintained for the adult teeth when they come in.
Contact us today to schedule an appointment or to discuss whether your child's baby teeth are being lost in the right sequence and the adult teeth are coming in correctly. To read more about losing baby teeth, see the article "Losing a Baby Tooth: Understanding an important process in your child's development."