Posts for: December, 2018
By Fennell Baron & Associates
December 08, 2018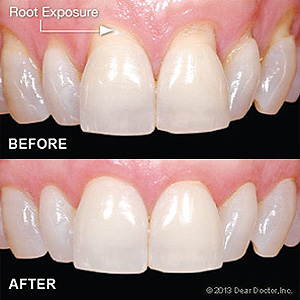 If you've suddenly noticed your smile looking more "toothy," you may have a problem with your gums. They may have lost their normal attachment to your tooth and begun to shrink back — or recede.
Millions of people have some form of gum recession. The most common cause is periodontal (gum) disease, but it's not the only one. You may be more susceptible to gum recession because of heredity — you have thin gum tissues passed down to you from your parents. You may also be brushing too hard and too often and have damaged your gums.
Healthy gums play an important role in dental health. The crown, the tooth's visible part, is covered with a hard, protective shell called enamel. As the enamel ends near where the root begins, the gums take over, forming a tight band around the tooth to protect the roots from bacteria and acid.
Receding gums expose these areas of the tooth meant to be covered. This can lead to another tell-tale sign — tooth sensitivity. You begin to notice pain and discomfort while you consume hot or cold foods. And because it leaves your teeth and gums looking much less attractive, it can affect your confidence to smile.
Fortunately, though, we can help restore receded gums. If you have gum disease, it's imperative we treat it as early as possible. We do this by removing plaque, a thin film of bacteria and food particles that triggers the infection. We use special techniques and hand instruments to remove plaque and calculus (hardened plaque deposits) from all tooth surfaces including along the roots.
Gum disease treatment can help stop and even reverse gum recession. In some cases, though, the recession may have advanced too far. If so, we may need to consider surgically grafting donor tissue to the recessed areas. Depending on the site and extent of recession, this can be a very involved procedure requiring microscopic techniques.
The best approach, though, is to take care of your gums now. Daily brushing and flossing removes harmful plaque; regular dental visits take cleaning a step further and also give us an opportunity to detect disease early. By looking out for your gums now you might be able to avoid gum recession in the future.
If you would like more information on diagnosing and treating gum recession, please contact us or schedule an appointment for a consultation.
By Fennell Baron & Associates
December 03, 2018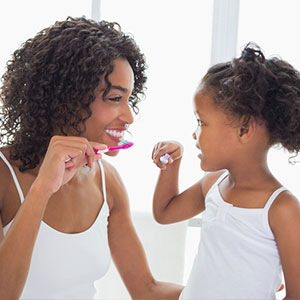 For over half a century, dentists have promoted a proven strategy for sound dental health. Not only is this strategy effective, it's simple too: brush and floss every day, and visit your dentist at least twice a year or as soon as you see a problem.
Unfortunately, this strategy isn't resonating well with people between the ages of 18 and 34, known more commonly as the "millennials." A recent survey of 2,000 members of this age bracket found a startling number: over one-third didn't brush their teeth as often as recommended, some going as long as two days between brushings. About the same number also reported fear of dental visits. Given all that, the next statistic isn't surprising: tooth decay affects one in three people in the millennial age group.
This isn't to pick on millennials, but to point out that good oral hygiene naturally leads to good oral health, regardless of age, gender or ethnicity. Here's more about the dental care basics for better health.
Brush twice, floss once daily. The American Dental Association (ADA) recommends a thorough brushing with toothpaste containing fluoride twice a day. You also shouldn't neglect a once a day flossing between teeth to remove plaque from areas brushing can't effectively reach. Keeping plaque accumulation to a minimum is the best way to prevent diseases like tooth decay or periodontal (gum) disease.
Visit your dentist at least twice a year. Dental visits every six months (or more if your dentist recommends it) accomplish two things: a professional dental cleaning removes any buildup of plaque and tartar (calcified plaque) missed by daily hygiene. It also allows your dentist to inspect your teeth and gums for any signs of disease that may require treatment.
See your Dentist ASAP if you notice problems. You should also see your dentist sooner if you notice anything abnormal like unusual spotting on the teeth, tooth pain or sensitivity, or swollen, reddened or bleeding gums. These are all signs of disease, and the sooner it's treated the less chance your teeth and gums will suffer serious harm.
Like other age groups, millennials know the importance of a healthy smile, not only for social and career interaction, but also for their own personal well-being. Sticking to a regular dental care program is the primary way to keep that healthy smile.
If you would like more information on effective oral hygiene, please contact us or schedule an appointment for a consultation.