Posts for: February, 2012
By Fennell Baron & Associates
February 16, 2012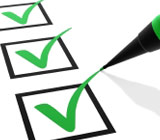 Your car comes with a maintenance manual that tells you when to get an oil change, rotate the tires, and perform other necessary tasks. By following the manual's directions you can keep your car running in good condition for many years. Too bad a manual doesn't come with your teeth and gums!
Such a manual would concentrate on a few basic tasks we call oral hygiene and teeth cleanings. Both tasks are mainly dedicated to removing dental plaque or biofilm from the surfaces of your teeth and the surrounding gums. Plaque is now referred to as a biofilm, a film composed of bacteria, that naturally forms in your mouth. Studies have shown that dental plaque causes periodontal disease (gum disease) and dental caries (tooth decay).
Tips for Daily Removal of Dental Plaque
The way you hold your toothbrush is crucial to your ability to remove plaque effectively. We recommend that you hold it in your fingertips as you would a pen or pencil. Use small motions and pressure. Brushing too hard can damage gum tissues. Use a soft bristled brush, hold it at about a 45 degree angle to the gum line and then use a gentle scrubbing motion. Studies have shown some electric toothbrushes to be more efficient at plaque removal than hand-held brushes; but in general how you use the brush is more important than what kind of brush it is.
To remove plaque deposits from the hard-to-reach areas between your teeth, floss at least once a day. Wrap the floss around each tooth surface and gently move it up and down for a few strokes, cleaning the sides of your teeth where they face each other.
You can use an antibacterial mouthrinse to get help reduce the bacterial plaque or biofilm that you missed in brushing and flossing.
The best way to make sure you are brushing correctly is to have a dental professional demonstrate for you. We would be happy to demonstrate the correct techniques in your own mouth so that you can see how it feels, and you can copy the methods we use.
Professional Maintenance Schedule
Your car needs to go into the shop from time to time for professional maintenance. Your teeth also need a regular schedule of maintenance from a professional dentist or hygienist. Over time, plaque that you do not manage to clean off your teeth accumulates and forms hard deposits called calculus or tartar. If left on your teeth these deposits cause inflammation of your gum tissues and can lead to infection, abscesses, and even tooth loss. During a professional cleaning a technique called scaling removes these substances. For more advanced forms of gum disease, root planing is used to remove deposits of calculus below the gum line.
Contact us today to schedule an appointment to discuss your questions about oral hygiene. You can also learn more by reading the Dear Doctor magazine article "Oral Hygiene Behavior."
By Fennell Baron & Associates
February 08, 2012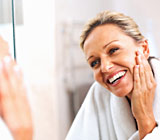 Dental implants are replacements for missing teeth. They are very stable and can be made to look as good as or better than the teeth they replace. How do we do it? Here are seven frequently asked questions.
What are the parts of a dental implant?
The implant consists of a root, usually made of a titanium alloy, which extends below the gum tissue into the bone; and a crown, which emerges from the gum and resembles the crown of the original tooth.
Why is a dental implant so stable?
Titanium has a property of fusing with the bone of the jaw, so that it actually becomes part of the bony structure. The new implant's stability depends on having the needed volume of bone and gum tissue in the right position to anchor the implant.
How can you make sure I have enough bone?
When a tooth is lost, the bone in which it was anchored will resorb or melt away if care is not taken. It is important to minimize trauma during tooth removal to preserve bone tissue. If tissue has been lost it can be built up by bone grafting techniques.
What factors make a crown on an implant look real?
How real the crown looks depends on its shape, particularly as it emerges through the gum tissues, its color and its position relative to the teeth around it.
What is the emergence profile?
This term refers to the way the crown emerges through the gum tissue. It involves both the shape of the implant and how far it is placed into the gum and bone tissues.
How do you match the color of the crown?
We analyze your tooth color using shade guides and/or photography to provide the dental lab with as much information as possible to create the best color match. This is part of the artistry of reconstructive dentistry.
How will my gums look with my dental implant in place?
When people use the word "gums" they are often referring to the small pink triangles of tissue that fill in the spaces between teeth, called "papillae." An implant must be placed at the correct distance from adjacent teeth and at the correct depth below the gum tissue for natural looking papillae to form.
You can see that success in matching of color, shape, and location of an implant is not simple and depends on the skill, artistry, and experience of your dental team.
Contact us today to schedule an appointment to discuss your questions about dental implants. You can also learn more by reading the Dear Doctor magazine article "Matching Teeth & Dental Implants."