General Dentist, Cincinnati, OH
5451 Montgomery Rd.
Cincinnati, OH 45212
513-631-6600
Use the box below to search our entire site.
Posts for tag: periodontal (gum) disease
By Fennell Baron & Associates
September 10, 2012
If you see blood when you brush or floss your teeth, it generally indicates a problem with your oral health. You may think you are brushing too hard, but this is not usually why gums bleed. The usual culprit is dental plaque.
Plaque is the sticky, whitish film of bacteria that forms on your teeth every day. If you brush regularly, you probably remove most of it — but some may remain behind and accumulate where your teeth meet your gums, particularly between your teeth. As the bacteria build up, along with by-products of their metabolism (the chemical reactions that maintain their lives), they cause inflammation, called gingivitis, in the adjacent gums.
Bleeding gums are an early symptom of gingivitis. Continuing contact with plaque at the gum line can cause your gum tissue to separate from nearby teeth, creating pockets in which the inflammation becomes even worse. The process leads to periodontal disease ("peri" – meaning around, "odont" – tooth). The increasing infection can eat away the bone that anchors the teeth, leading to possible tooth loss. Periodontal disease is not an uncommon problem. About 90% of the population has bleeding gums at some time or another, and approximately 10% go on to develop periodontal disease.
When you lose bone around your teeth, the gums separate from the tooth and "pockets" form between your teeth and gums. The inflammation and infection may continue within the pockets even if your gums have stopped bleeding when you brush. That's why it is important to have regular dental exams — to check up on and stop periodontal disease before it has a chance to cause serious damage.
There may also be other reasons for bleeding gums that have to do with your general state of health. Women who have elevated levels of hormones caused by birth control pills or pregnancy may experience an increased response to plaque that makes their gums bleed more easily. Increased bleeding in your gums can also be caused by some diseases or as a side effect of some medications.
The most important way to prevent bleeding gums is to learn proper brushing and flossing techniques so that you effectively remove plaque from your teeth on a daily basis. If you are not sure you are using the right techniques, make an appointment and have us demonstrate at your next dental visit.
With all the best intentions, some plaque may remain. Plaque that is allowed to stay on your teeth hardens into a substance called tartar or calculus. This must be removed periodically with a professional cleaning by me or by our hygienist.
With not too much effort, you can ensure that your teeth are clean and plaque free, and your healthy gums no longer bleed.
Contact us today to schedule an appointment to discuss your questions about bleeding gums. You can also learn more by reading the Dear Doctor magazine article "Bleeding Gums."
By Fennell Baron & Associates
March 28, 2011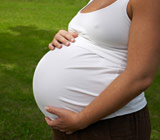 The beloved title of "mother" unfortunately does not come with a manual. If it did, it would certainly contain a section in which mothers-to-be could learn about the impact that pregnancy has on both their general and oral health. For example, did you know that during pregnancy the normally elevated levels of female hormone progesterone can cause inflammation in blood vessels within the gum tissues making the gums bleed? It typically occurs in response to less than adequate daily oral hygiene; however, it is just one important fact that all pregnant women should know.
There are numerous studies that have revealed that oral health during pregnancy can have a significant impact on the child growing inside you, and in particular, it has a direct relationship on your baby's developing and future oral health.
Periodontal (gum) disease can also be a factor in your baby's birth weight. In fact, there are a variety of studies supporting a positive link between pre-term delivery and low birth weight babies in the presence of severe periodontal disease in pregnant women. And there is also a correlation between the severity of periodontal disease and the possibility of an increased rate of pre-eclampsia or high blood pressure during pregnancy. This is another reason why it is important to see a dentist for an evaluation of your oral and dental health as soon as you know you are pregnant.
Please note that the goal of sharing these facts is not to scare you, but rather inform you so that you can be an educated mother-to-be. After all, you should be as healthy as possible for the most important job in the world and this includes both your oral and general health. Learn more about your body and discover the many relationships between mother and child as you read the Dear Doctor article, "Pregnancy And Oral Health." Or if you want to schedule an appointment to discuss your questions, contact us today.